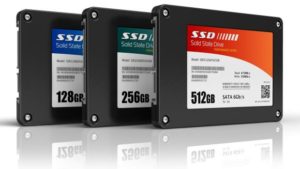 One of the best ways to make a significant difference to the performance of your computer is to upgrade your hard disk to an SSD (Solid State Drive).
But speed isn't the only benefit of SDDs. Because there are no moving parts inside an SDD, they're silent and they're less likely to get damaged in laptops specifically that are commonly carried around.
SSDs have not reached the high storage capacities of regular HDDs (Hard Disk Drives) so there's a trade off between performance and capacity, but the gap is closing and you can now get a 500Gb SSD for around €90 or a 240Gb SSD for around €45.
If your computer runs without any issues then your old Hard Disk can simply be cloned to an SSD and you can enjoy the performance benefits with minimal fuss, but it's usually better to install a fresh clean copy of your operating system and transfer your data and have the best experience possible with all the performance and reliability of a brand new computer but with the added speed benefits the SSD will bring.