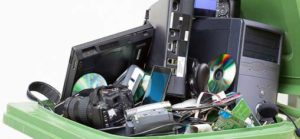 I'm often asked how to responsibly dispose of old technical equipment. We need to look after this beautiful island of Cyprus and consider the environment so we should follow the WEEE directive for our old computer, laptop and printer.
There is a considerable amount of recyclable material in your old devices, and of course we don't want to be filling our landfill with such items, so here's a useful page of information provided by WEEE CYPRUS LTD (Waste Electrical & Electronic Equipment).
Don't forget that your old computer or laptop still contains all of your personal data, and just deleting files isn't enough as deleted data and even formatted disks can be recovered so you definitely would want to have that data properly destroyed (yes I can help you with that!).
More info available here http://www.weeecyprus.com.cy/en/howtorecycle.php